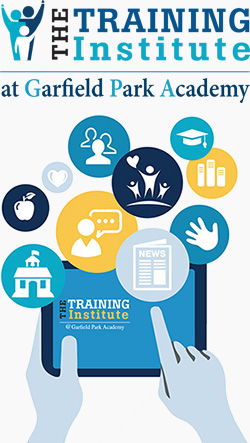 The Training Institute at Garfield Park Academy disseminates information on best practices in special education. The Institute offers free trainings to school leaders and other educators, with a focus on innovative, evidence-based approaches to serving students with social, emotional, learning and behavioral challenges.
Our Goal
Our goal is to help other schools – public and private – become more aware of the need for using evidence-based school-wide strategies in teaching social-emotional learning, cognitive and behavioral supports, and character development.
Past and Future Topics Include:
Working with Students Who are Living in At-Risk Environments
Teaching Self-Determination & Self-Direction to Teens with Social and Emotional Challenges
The Role of Self-Regulation in the Lives of Students with Social and Emotional Disabilities
Beyond Positive Behavioral Supports: Understanding Teaching Family Model in School Setting
Trauma Informed Care
Data-driven Decision-making and Accountability in School-Based Social Services
Mental Health Supports in School Setting
Building Skills for Happiness: Teaching Resiliency to At-Risk Students
We Offer:
Drawing on the advice of the nationally-respected volunteers on our Professional Advisory Board, topics and speakers are selected to help ensure that New Jersey educators have access to topics and speakers that engage attendees and change school culture.
Professional Advisory Board:
Maurice Elias
Ph.D. Professor of Clinical Psychology Rutgers University
Vito Gaglardi, Sr.
Policy advisor and Former Commissioner NJDOE
John Lestino
Past President, NJ Association of School Psychologists
Peggy McElgunn, Esq.
President, Teaching Family Association
Mark Mintz, MD
Founder and CEO CNNH
Bud Milner, MS
Director of Residential Programs, Indiana United Methodist Children's Home
---
The Training Institute at GPA is a program of Garfield Park Academy. For more information, call Hilda Garvey at 609-877-4111, ext. 207.