Call it fidgeting, wiggling, getting up, or bouncing in their seats, students at Garfield Park Academy are not being told to "sit still" – in fact, they are encouraged to move.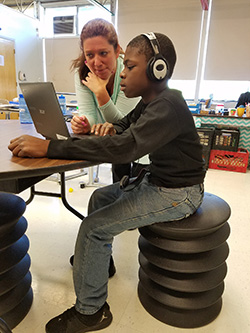 For many students with ADHD, learning disabilities, and autism, excess physical energy can be distracting in the classroom. When the expectation is that students remain still and seated, sensory integration dysregulation issues can look like a behavioral problem.
According to Rebecca Wind-Samu, OTR/L, Occupational Therapist at GPA, a more sensory-friendly classroom allows students to use that energy in a way that helps them – and those around them – pay attention and learn.
Classrooms at GPA are now equipped with a toolbox of 'hand fidgets' – the student equivalent to an executive desk toy. Students use the plastic tangles, porcupine balls, rubber stress balls, therapy putty and more – while at their desks to improve concentration.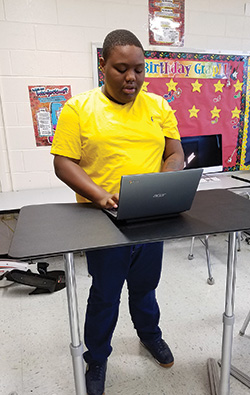 Even the desks and chairs now invite motion. ErgoErgo stools help support posture and allow students to rock gently in any direction.
New Fit Desks® equipped with stationary exercise bikes offer a movement break, helping students stay focused.
"Sit to Stand" desks give students the option to stand up while they do their work, and in other classrooms, students sink into oversized beanbag chairs for calming and relaxation.