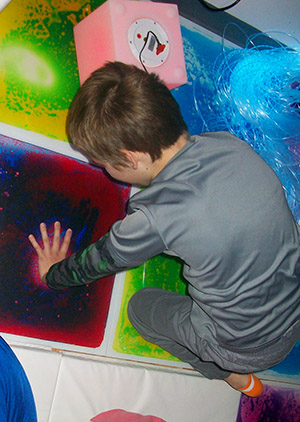 Color. Sound. Texture. A brand new sensory room is helping students improve self-awareness and explore self-regulation strategies. Used increasingly for students on the autism spectrum and those with sensory integration issues, the multisensory environment consists of an array of lights, sounds and tactile experiences that can be adjusted to individual preferences.
The room includes a five-foot bubble tube, interactive fiber-optic strands, cube lights and reflective mirrors. It is equipped with a stereo system that plays sound through a vibro-acoustic chair that enables the student to feel the music. Interactive gel floor tiles move with pressure and various tactile objects allowing students the chance to explore through their sense of touch. There is even a padded canoe that provides relaxation through deep pressure.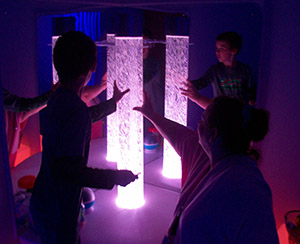 "Use of the room can be incorporated into daily routines as part of a sensory diet to meet individual needs and promote learning readiness," said Rebecca Wind-Samu, OTR/L, Occupational Therapist at GPA.
"It can be used as a therapeutic tool to help students communicate and express themselves more freely in a safe environment. The Sensory Room supports our philosophy that students with emotional challenges and learning disabilities can succeed if provided with the resources they need," she concluded.