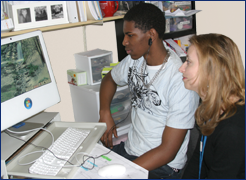 When most people hear the word "biofeedback," the last thing they think of is elementary and high school classrooms. But if you ask students at Garfield Park Academy in Willingboro, NJ, they'll tell you about it as matter-of-factly as if it were today's math homework. Biofeedback is nothing new at the School; they've been using it there for nearly fifteen years in their clinical work with students. But recently Garfield Park Academy has received a grant to research its use in classrooms to teach students self-awareness and self-regulation skills that have proven crucial to improving academic and social development.
Darnell sits in front of a computer screen in the social worker's office adjacent to his classroom. A small metal clip attached to his earlobe connects him to the computer and the software sensing his heart rate and rhythmic patterns. Mary, the classroom social worker, assists him. Darnell chooses an exercise that displays a finely rendered black and white drawing of an attractive nature scene. Mary explains that as Darnell's heart rate and rhythmic "coherence" indicate increasing calm, elements of the drawing – trees, streams, patches of wildflowers – will assume their natural colors. Darnell can also see graphical indicators of his success under the drawing, bar graphs whose red and green fill colors rise and fall depending on his body's response. In just a few moments the effect is clear, especially as Darnell "colors" the drawing by regulating his heart.
According to Dr. Dale Starcher, the School's Clinical Director who has held national certification in biofeedback for more than 20 years, the students' response to the new teaching strategy has been immediate and positive. "Most adults are skeptical when they're told they can control their heartbeat, brain-waves, or other physiological processes," he said, "but children aren't surprised at all. They're at a point in their lives when they are learning so much about the world and their place in it, so when they are shown how to control certain body responses, it makes instant sense to them. They're more open-minded than adults in that respect, and they tend to learn how to do it faster."
Students have a lot to gain from it, too. While they learn the techniques faster than adults, they are less likely to appreciate the natural connection between emotions, physiology, and behavior on their own. Dr. Steven Morse, Executive Director at Garfield, points out that children and young adults are wired faster than adults. "Their metabolisms and brain function run at higher rates, and they rarely equate slowing down and exercising self-control with well-being," he said. "But being able to do so offers a safe and immediate way to manage stressful situations, and difficult emotions."
Garfield Park Academy is an approved non-profit private school for students with disabilities in Willingboro, NJ, that provides effective, evidence-based special education services for students in grades K-12. Many of Garfield's students arrive with a history of learning or social/emotional challenges. The school often integrates traditional teaching strategies with innovative and research-based techniques to enhance learning.
While Garfield has been using biofeedback with their students for more than 15 years, the HeartMath program had its start more recently when Starcher contacted HeartMath, a non-profit research organization dedicated to advancing understanding of heart-brain interactions, emotional physiology and the connection between physiology and optimal learning and performance. HeartMath had recently received a U.S. Department of Education grant to investigate using biofeedback as a means to reduce test anxiety. Their research found this novel approach to be highly effective.
As a result of Starcher's outreach, HeartMath provided Garfield Park Academy with five computer-based systems and the biometric equipment needed to begin teaching students biofeedback techniques and gathering data on its effectiveness in classroom and school environment.
Garfield is an ideal setting for the research and the program fits well into the current curriculum because the school has social-workers' offices in every classroom. The social workers can be trained and qualified to teach the biofeedback techniques in the classroom setting. Biofeedback systems are also available in a separate room, so that students may be referred for private work with a social worker or psychiatrist. The school also takes a curriculum-wide approach to physiologic/emotional awareness, using group relaxation techniques in all classrooms.
The pilot program is going so well that Starcher hopes to expand it at Garfield as soon as possible. "What we're hoping to demonstrate through this research is that using biofeedback to develop self-regulation skills can help students manage stress and improve their learning and performance, and to share those results with the wider education community," According to Starcher, early indications are very promising.