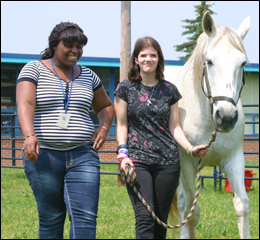 Thanks to generous private donations, GPA's Equine Assisted Psychotherapy (EAP) program has moved onto the School's Willingboro campus.
Last spring, an 8,000 square foot paddock was erected on a grassy field behind the school, allowing the therapy horses to come directly to the campus.
Equine Assisted Psychotherapy is a collaborative effort between a licensed therapist and a horse professional, both of whom are certified in EAP.
Students do not ride or groom the horses, rather, EAP relies on developing working relationships with the horses, a process that builds skills in non-verbal communication, assertiveness, creative thinking, problem solving, personal responsibility, confidence, and positive attitude.