4-H Canines in Class
This club is by the students for the students.  The members feel that dogs would serve our students well by being present in the school for students to enjoy. Canines in Class 4-H members are researching and creating a therapy dog program. Members of the club are working directly with a therapy dog handler who is teaching them about how to certify a dog and what the process looks like. Members will be taking a handling class with the dog handler so that when the club introduces the dog to the school the members can be confident in their handling ability.

Culinary Club
The students are cooking up some classic comfort food in the culinary club. Our junior chefs have had the opportunity to prepare Chicken Alfredo, meatballs marinara, and fried chicken. With the winter weather, the students are warming up with a soothing and nourishing chicken noodle soup. Nothing says carnival comfort than a warm deep fried Oreo sprinkled with powdered sugar. The students have learned how to chop, sauté and navigate their way in the kitchen.

Garfield Park Academy Talent Show
On February 11, 2015 Garfield Park Academy hosted its 14th Annual Student and Staff Talent Show. It was a wonderful event with many talented performers. Acts included singing, dancing, playing the drums, computerized rhythm music, karate moves and juggling. Both the students and the staff put in a lot of hard work and dedication to make this year's Talent Show a big success!

Principal's Honor Roll/ Principal's List Luncheon
On Thursday, January 15th, students who earned Honor Roll/Principal's List for the first marking period were treated to a pizza luncheon. In order to earn Principal's List, students must have earned straight A's for the marking. Those students who earned A's and B's were recognized on the Honor Roll List. For the first marking period, 55 students were on the Honor Roll List and 6 students earned Principal's List. This represented about 45% of our student population! During the luncheon, students were given a certificate and an Honor Roll pencil or Principal's List pencil. Those students who earned straight A's will also be going to Friendly's Restaurant for lunch to recognize their accomplishments.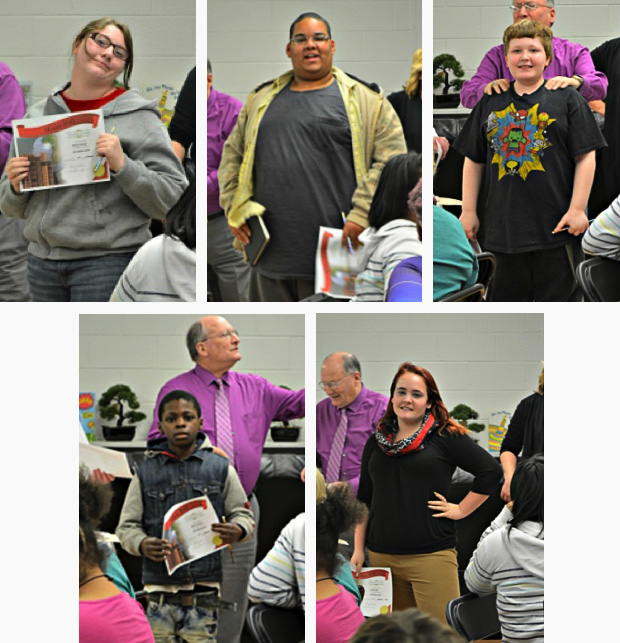 Everyone in attendance had a great time and had the opportunity to interact with each other in a positive school activity. It is so important to recognize our students for their academic accomplishments throughout the school year, and heartwarming to see students' faces as they come up to receive their awards and have their picture taken. For the second marking period, students will attend a breakfast in our media center.
Building Maintenance and Facilities Club
This club is responsible for performing routine building maintenance tasks. The club members perform minor painting, carpentry and equipment set-up and break down around the entire Garfield Park Academy Campus.

Sports Club & Weightlifting Club
Sports club consists of organized team sports such as Basketball, Football, Soccer, etc. Weightlifting club consists of taking the students in the weight room and teaching them about weightlifting, boxing, etc. and having the students demonstrates how to appropriately do them.

Muscle Car Club
The Muscle Car Club is teaching students what they need to know in order to restore a muscle car. Members have recently been learning to weld and make steel parts.