Spectrum Resource Center … As Unique as Your Child
Our goal is to embrace the uniqueness of ASD, while reducing obstacles toward a happy, productive life.
The Spectrum Resource Center at Garfield Park Academy is as unique as your child. Designed for students diagnosed with an autism spectrum disorder (ASD), the center offers solid academics, behavioral supports, meaningful instruction in social-emotional learning and related services to support each student – all within the context of a problem solving and data-driven approach.

Solid Academics…
Our academics, following the Common Core standards, range from direct instruction to discovery and group-based learning. And, to make sure the students are learning, we conduct ongoing performance-based assessments so that we can continually adjust our teaching to meet their needs.
Learning is conducted around small groups and individualized instruction. Small groups involve students interacting with other students. This promotes social-emotional interactions and collaborative learning. Individualized instruction allows us to focus in on specific learning or behavioral needs and provide more intensive interventions.
Naturalistic Behavioral Interventions…
The latest advancements in Applied Behavior Analysis (ABA) and Child Development recommend naturalistic approaches. What does this mean? Discrete trial ABA and other direct instructional approaches have their role. However, if we want to make developmental changes that will generalize across time, place and persons we need more.
We include experiential-based strategies such as play to engage the child and work on core developmental factors. During these activities, we work on joint attention, social referencing, sensory-motor awareness and self-regulation, emotional reciprocity, problem solving and other developmental skills related to their disorder.
Developmental Social Communication: Learning While Building Relationships…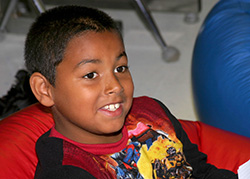 Students learn best and are the most motivated when they are having fun. To achieve this, we always start with what is meaningful to the child. Our task is to understand the child's internal state and then scaffold our teaching strategies and guide the student toward new learning. We rely on social-pragmatic communication techniques so students learn to use metaphor, humor, how to start and end conversations, stay on topic and repair communication breakdowns. The better a student can communicate, the more they can become part of the social environment, communicate their needs, and develop rewarding friendships.
Included in this approach is the use of DIR/Floortime® conducted by our social workers. Through communication-based groups, students learn to engage in joint attention and social referencing, take turns during interactive games, and learn to verbalize their feelings.
We also have LEGO® Therapy groups. For those children motivated by LEGOS®, we teach children how to collaborate and engage in creative projects. We include LEGO® movie production for more advanced students.
Brain-Based Learning…
The latest in Brain-Based Learning is helpful in knowing how to engage the students' brains related to autism spectrum disorders. We need to help students activate new neural connections and reorganize how their brain works to be more successful. This is achieved through a learning environment that is calm, yet mentally stimulating, helping students immerse in deeply rewarding experiences and engage them in problem-based and critical thinking projects. This is enhanced through targeted, planned and specific social groups with mentoring, teams and buddy systems.
While compliance is needed, we encourage problem solving and self-determined choices because this activates the brain. We challenge our students to engage life to the best of their abilities and learn how to advocate for their needs.
How's Your Engine Running? Sensorimotor Self-Regulation…
Sensory overload, anxiety, and difficulty with transitions are common with the ASD population. These issues often contribute to students becoming perseverative and difficult to manage. We implement the Alert Program® to teach the students to become more aware of their inner state of arousal and anxiety and to learn to self-regulate to what we call the "Just Right" level. In this more balanced state, they are naturally calmer, cooperative and are able to re-focus their attention more effectively.
Integrated Therapies All Day…
The use of integrated therapies is critical to our program. For example, our reading specialists, conducting individual pull out and in-classroom groups, use high interest reading materials to help students make meaningful gains in critical areas such as decoding, comprehension and fluency.
Occupational Therapy, Speech and Language Therapy, Counseling and Art Therapy are conducted in both individual and group settings. We have found that isolated therapy sessions alone will not produce the results our students need. Therefore, our related service therapists train teachers and staff how to use specific strategies throughout the day and are in the classroom daily to work with students. Our social workers are based in the classroom, not in an office down the hall. This allows them to see the students throughout the day and help when needed.
Flexibility…
Students with autism placed at Garfield Park Academy can move in and out of the Spectrum Resource Center, as needed. This allows the program to provide flexible support in certain areas, and means that each student will spend part of the school day with peers who do not have an autistic spectrum disorder.
Home, School and Community Supports…
We offer parent support and education, including home visits as needed. There are monthly Parent Education Program meetings where we cover pertinent topics for parents. We also provide individual parent training related to specific interventions that can be practiced at home. In addition, we take the students into the community to work on specific educational or behavioral goals.
The Spectrum Resource Center
A Comprehensive Evidence-Based Program for ASD
Academics
Building Relationships
Social-Emotional Communication
Brain-Based Instructional Methods
Communication for Problem Solving
Sensorimotor Self-Regulation
Integrated Therapies Throughout the Day
Flexibility and Individualization
Home and School Collaboration