Vocational School Video

Garfield Park Academy provides New Jersey Department of Education, Office of Career and Technical Education-certified programs in a wide variety of career-oriented subjects.
We offer:
Auto mechanics
Culinary arts
Cosmetology
Horticulture
Carpentry
Computer science
Independent daily living
Retail and business education
Cooperative work training at local businesses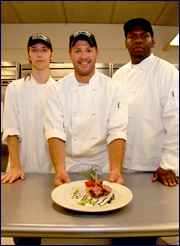 Vocational classes prepare students for the world of work, college, or trade school. GPA's classes provide students with skills well beyond the workplace readiness level and the teachers in this program are certified to teach in their respective fields. GPA's certification by the State of New Jersey for its vocational programs represents an exceptional level of educational quality.
GPA's Cosmetology Program now offers a variety of salon services to the general public at very affordable rates. For more information or to schedule a service, please call 609-877-4111.