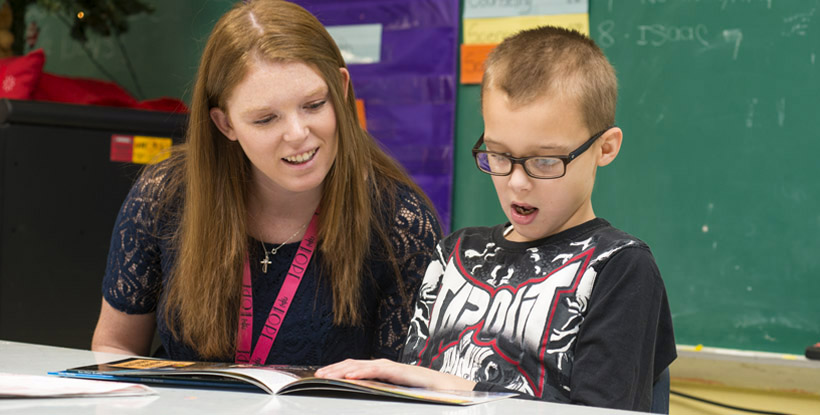 Garfield Park Academy is a New Jersey state approved, private, not-for-profit school that provides effective, evidence-based special education services for students in grades K-12 who have a history of learning, social, emotional and behavioral challenges. Our comprehensive services and programs are designed to 'wrap around' each student and his or her family to ensure success, not just in college or work, but also in life.
What sets GPA apart is our highly-qualified, dedicated staff and our unending commitment to therapeutic, clinical intervention. All of our work is based on cutting edge educational research and best practice.
By teaching and living our core values of
Respect
Accountability
Self-Direction
Responsibility
Perseverance
Our students learn to change their perspectives and achieve..
Garfield Park Academy currently provides a complement of sixteen classes, comprised of students ages 5 through 21. Classes are grouped according to age, ability and emotional challenge, with classes for all, up to and including the gifted.
Mission and Philosophy
Children with emotional challenges and learning disabilities can be successful in life, if provided the resources to monitor and self-regulate their own behaviors. Through self-regulation, counseling, and truly individualized education, GPA helps students understand and achieve success by changing their attitudes and allowing themselves to achieve.
At Garfield Park Academy, we provide a positive, innovative approach to learning for students ages 5-21 with emotional challenges or learning issues. The School's therapeutic program, combined with traditional academics and preparation for college or the vocations enhances the chances of students with emotional and social challenges to succeed in an educational environment and in life!
Certifications
Garfield Park Academy is approved by the New Jersey Department of Education as an Alternative School. The Clinic is also approved to operate under the approval of the New Jersey Department of Education.
Garfield Park Academy is one of only a handful of special education private schools to earn accreditation from the Middle State's Association, America's premier regional accreditation agency. The Association recognizes excellence in educational quality, planning, and growth in student performance and provides rigorous standards of educational quality.
Garfield Park Academy has consistently demonstrated clinical excellence in its service to students with complex educational, behavioral and emotional needs and their families.
– John Lestino, MA, LPC,  Past President, New Jersey School Psychologists Association
Garfield Park Academy is the first school-based program in the nation to be accredited by the Teaching Family Association. The Model has been selected by the American Psychological Association as a "Model Program in Service Delivery in Child and Family Mental Health."
As the nation's only TFA-accredited school-based program, Garfield Park Academy represents the gold standard in positive behavioral supports for students with disabilities. Their commitment to excellence is unsurpassed.
– Peggy McElgunn, Esq., Executive Director, Teaching Family Association
School History
Garfield Park Academy is a division of the Therapeutic Learning Center, Inc. In 1992, known only as The Therapeutic Learning Center (TLC), the school opened its doors and began accepting students in the beginning of 1993. Conveniently located in the heart of Willingboro Township in Burlington County, NJ, the Therapeutic Learning Center began with one student and occupied one rented classroom in the Garfield Park Elementary School. Before long, enrollment jumped to 75 and more classrooms were rented from the Willingboro Township School District.
In 2000, the Therapeutic Learning Center successfully purchased the Garfield Park Elementary School and changed the School's operating name to Garfield Park Academy. Since then, we have grown significantly, both in number of students and programs, including one of the most successful vocational programs in the state.
GPA's Board
GPA is governed by a volunteer board comprised of industry and special education professionals and community members. For more information on our Board, call 609-877-4111.