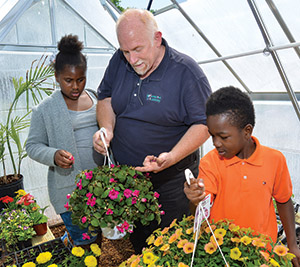 Lush green leaves and the sweet smell of warm potting soil welcome students when they walk into the newly refurbished Horticulture Center at Garfield Park Academy. The center functions as a quiet oasis for students, where they can connect with nature and get their hands dirty. The program recently added a fenced-in outdoor organic garden classroom complete with a tool shed and a fiberglass greenhouse for growing plants, offering an urban farming experience that is a 'first' for many GPA students.
Through their work at the Horticulture Center, students learn patience and how to care for plants through hands-on earth science lessons. They also learn career skills: the classroom is set up to run as a full-service flower shop, so students learn about marketing, salesmanship, order taking, and cash register operation.
"The horticulture program at Garfield Park Academy offers students technical training in a work-related environment," said David Hamilton, Teacher of Horticulture.
Students work with plants and flowers and are exposed to various opportunities for employment in the field of horticulture. Students create floral arrangements for the general public offered through holiday plant sales on major holidays. Students also create floral designs for the Park Café, school graduation, and various other school functions.
"They also learn about giving back. We often donate floral arrangements to area nursing homes, connecting our students to the community and helping them see the joy that flowers can bring," Hamilton concluded.